BML Mobile
What is BML Mobile?
BML Mobile is a streamlined interface offering mobile users fast and easy access to library services. You can search the UR Library Catalog and also search for articles using some of our most popular databases.
How do I access BML Mobile?
Simply visit http://library.richmond.edu on your mobile device.
What devices are supported?
Most modern mobile platforms are supported including iOS, Android, Blackberry and Windows Phone 7.
Can I bookmark BML Mobile?
Yes! Use your mobile browser's bookmark function. iPhone and iPod Touch users can add the BML Mobile icon to your Home Screen by clicking the bookmark button at the bottom of the browser and choose "Add to Home Screen." See the example below: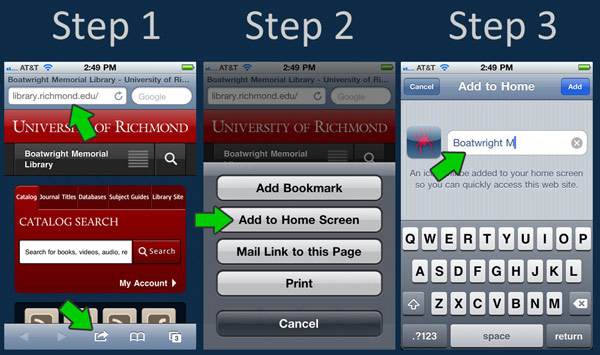 ---
BML Mobile Homepage: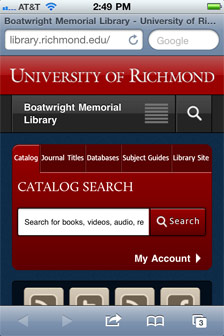 Try it and give your feedback!
OneSearch
Catalog
Find Articles
Journal Titles
OneSearch
My Account
---