The Visible Scholar
The Politics of Annexation: Oligarchic Power in a Southern City
New Open Access Digital Edition
Thursday, March 19, 2020
4:00 p.m. - 5:00 p.m.
Research & Collaborative Study Area, 1st Floor, Boatwright Library
Panel Discussion
John Moeser, Professor Emeritus of Urban Studies and Planning at Virginia Commonwealth University and retired Senior Fellow in the UR Bonner Center for Civic Engagement
Rutledge Dennis, Professor of Sociology, Department of Sociology and Anthropology, George Mason University
Julian Hayter, Associate Professor of Leadership Studies, University of Richmond
Sam Byrd, Scholarly Publishing Librarian, VCU Libraries
Lucretia McCulley, Head, Scholarly Communications, UR Libraries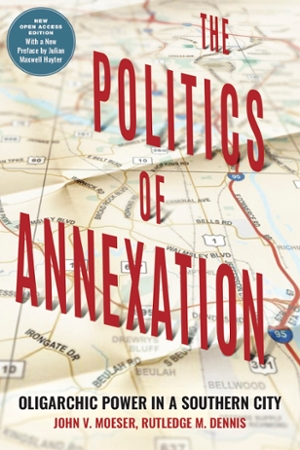 In 1982, VCU Professors John Moeser and Rutledge Dennis, researched and wrote the seminal book, The Politics of Annexation: Oligarchic Power in a Southern City, a political and power analysis of the 1970 annexation in the City of Richmond. The book continues to be read and frequently cited by scholars and students and print copies are often missing from library shelves in the Richmond area.  Now in 2020, a new open access digital edition is available from VCU Libraries, in collaboration with the University of Richmond Libraries.  Attend this panel discussion to learn more about the impact of this book as well as the process of publishing an open access monograph.
Links:
UR Scholarship Open Access Copy of the Original Print Edition: https://scholarship.richmond.edu/bookshelf/307/
Taking place in an open venue in the library, "The Visible Scholar Series" provides a space for informal faculty talks on new publications. Students, staff and faculty can listen and view a scholar in action.