University Libraries E-Newsletter
November 2018
Providing diverse information resources, personalized services, and creative learning spaces, the Libraries connect with students, staff and faculty on a daily basis. This e-newsletter features upcoming events as well as highlights on various new library services and sources.
From the University Librarian - Kevin Butterfield

A late Fall chill inhabits the air as we approach the end of the semester. Therefore, our newsletter highlights our indoor activities. Our Book Arts Studio, made possible by a generous donation from Shiu-Min and David Block and local printer David Clinger, has grown to be a strong supporter of the undergraduate curriculum. This month we highlight its role in community outreach. Our Digital Scholarship Lab continues to break new ground with their thought-provoking projects. This one explores the history of United States congressional elections. Finally, our long-standing partnership with the Office of Common Ground will result in another in an outstanding series of programs. Enjoy!
Book Arts for Badges: Boy Scouts in the Book Arts Studio
As part of Merit Badge Week this past August, twenty-two Boy Scouts from the Heart of Virginia Council visited Boatwright's Book Arts Studio to earn their Graphic Arts merit badge. Working in groups with Jen Thomas, Book Arts Program Director, each Scout learned how to letterpress print lead type using a foot-operated platen press; then hand-inked a linoleum block and relief printed on a cylinder proof press with Dywana Saunders, Research & Digitization Associate; and ultimately bound their prints into booklets with Lynda Kachurek, Head of Rare Books and Special Collections, and Jeannine Keefer, Visual Resources Librarian. The Scouts learned about the history of printing and were able to explore the studio's collection of lead type, touching the individual letters and experiencing how early printers formed words and sentences piece by piece. Each Scout left with two hand-printed booklets and a greater understanding of the past, present, and future of the graphic arts.
- Jen Thomas, Book Arts Program Director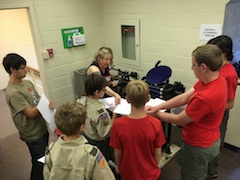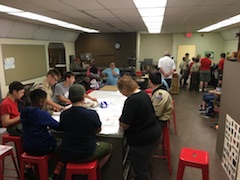 Click photos for slideshow.
Electing the House of Representatives: Discovering Democracy Through Digital Maps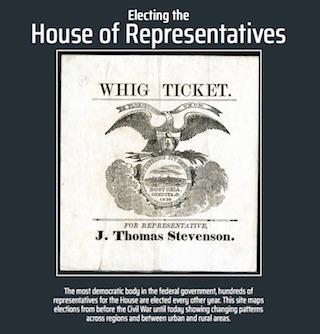 On October 15, the Digital Scholarship Lab (DSL) in Boatwright Library launched Electing the House of Representatives, a collaborative project providing information on nearly two centuries of elections. This digital map is the most comprehensive map of House election results.
Electing the House of Representatives provides an opportunity for citizens and scholars to explore patterns in America's democratic landscape across time. According to Dr. Robert K. Nelson, director of the Digital Scholarship Lab, "Electing the House encourages an appreciation and deeper understanding of the changing but always significant geographic dimension of American partisanship."
The project was created through the collaboration of the Digital Scholarship Lab and the Department of History at Virginia Tech. Dr. Nelson designed and developed the project and GIS Analyst Justin Madron managed the organization and manipulation of the spatial and election data for the project. DSL interns Ava Clarke, Katrina Hayes-Macaluso, Chloe McKinney, and Anna Moorhead carefully checked—and continue to check and improve—the data for the project.
- Dr. Robert K. Nelson, Director, Digital Scholarship Lab
Boatwright Library Welcomes Alissa Potter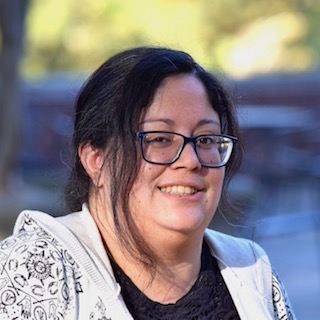 Alissa Potter joined Boatwright Library in October 2018 as a User Support Specialist. She will process course reserves for faculty. After obtaining a B.A. in History from George Mason University, Alissa spent five years working at Barnes and Noble, serving as a digital sales lead. Alissa is an avid fantasy reader and loves travelling through Europe, most recently to Amsterdam, Netherlands.
"In Common" Programming: Bringing the Campus Together
On Thursday, November 15, In Common, a collaboration between Boatwright Library and the Office of Common Ground will sponsor a noontime program on "The Thrill and the Truth of Aretha Franklin: An Appreciation." Now in its twelfth year, the In Common planning committee organizes and promotes a program each fall and spring semester. In the fall of 2006, Glyn Hughes, Director of the newly-formed Office of Common Ground, approached the library with an idea to co-sponsor discussion starters to foster and facilitate discussion about important issues across lines of difference, especially those separating staff, faculty and students. Early programs focused on such topics as "Discovering Diversity through Children's Literature," "Balancing Act: Caring for Your Aging Family Members," and "What Happened Before You came to UR: Reading The Collegian Online." Over the years, the program has evolved, but our primary goal is to offer shared learning experiences focused on diversity for members of the university community.
- Lucretia McCulley, Head, Scholarly Communications
Archives
Follow us on Facebook


Oops! Something went Wrong.
----------------------------
Message: Decoding failed: Syntax error
Code: 0
File: /WWW/includes/zend/ZendFramework-1.10.5-minimal/library/Zend/Json.php
Line: 93
Trace: #0 /WWW/repos/kp4/includes/kp4/php/Artemis/Utilities/Feeds/Frontend/Facebook.php(51): Zend_Json::decode('', 0) #1 /WWW/repos/kp4/includes/kp4/php/Artemis/Utilities/Feeds/Frontend.php(67): Artemis_Utilities_Feeds_Frontend_Facebook->makeFeed() #2 /WWW/repos/kp4/includes/kp4/php/Artemis/Utilities/Feeds/Frontend/Facebook.php(47): Artemis_Utilities_Feeds_Frontend->setXml() #3 /WWW/external/library/about/newsletters/2018-11.html(221): Artemis_Utilities_Feeds_Frontend_Facebook->setXml() #4 {main}
----------------------------