University Libraries E-Newsletter
March 2019
Providing diverse information resources, personalized services, and creative learning spaces, the Libraries connect with students, staff and faculty on a daily basis. This e-newsletter features upcoming events as well as highlights on various new library services and sources.
From the University Librarian - Kevin Butterfield

My daughter informed me this morning that, since Spring was only a few days away, we must pack a swimsuit in her backpack in case her daycare class decides to go to the pool. It is never too early to be optimistic.
This month we feature articles on community engagement and Boatwright Library. Viewing an opera in the Parsons Music Library, creating tunnel books in the Book Arts Studio, and supporting our students by assisting with lowering the cost of their textbooks are all ways in which the library engages with our campus community. I hope you can find the time to stop by Boatwright and join us!
Love Among the Pyramids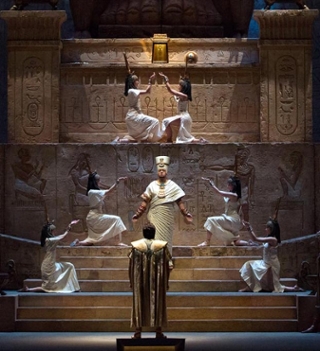 On Friday, March 29, at 7:30 pm, Parsons Music Library will show the Metropolitan Opera's October 2018 HD broadcast of Aida, Giuseppe Verdi's beloved opera set in ancient Egypt. Russian diva Anna Netrebko stars as Aida, an Ethiopian slave who conceals her royal identity. Georgian mezzo-soprano Anita Rachvelishvili sings Amneris, the haughty Egyptian princess, and Latvian tenor Aleksandrs Antonenko is Radamès, the military hero they both love. With a cast of hundreds, Aida puts the "grand" in "grand opera," and the fireworks between Aida and Amneris are especially incendiary in this performance. The showing is free and open to the public. Parsons Music Library can be reached via the second floor of Booker Hall or the third floor of the Modlin Center.
- Linda Fairtile, Head, Music Library
Salem Church Middle School Students Tunnel into Boatwright's Book Arts Studio
On March 12 twenty-seven students from Chesterfield's Salem Church Middle School visited Boatwright's Book Arts Studio to create tunnel books with Book Arts Program Director, Jen Thomas. Tunnel books are dimensional books comprised of accordion folds on the left and right sides that hold panels (pages) in place to create a theatrical story with real physical depth. Each page is cut so that their images reveal subsequent pages behind. Art teacher Amber Kuper gave the students prompts to create their books—they had to contain a real place and a magical creature/being to inhabit their real location. Students could then expand upon their story any way they liked. Dragons, griffins, unicorns, and fairies emerged from Stonehenge, the Eiffel Tower, and the Pyramids, among many others.
Students also worked with Lynda Kachurek, Head of Rare Books & Special Collections, and Taylor McNeilly, Processing & Reference Archivist, to explore books from the collection, including a cuneiform tablet dating back to 2350 BCE, The Egyptian Book of the Dead, and The Book of Kells. Students also played a game of "newspaper bingo" by locating information in the Richmond Daily Dispatch from 1864 and examined McGuffey Readers to discover what middle schoolers were learning at the turn of the 20thCentury. They left with a greater understanding not only of the broad scope of what is considered book arts, but also a pretty cool introduction to the history of the book from 2350 BCE to the present.
- Jen Thomas, Book Arts Program Director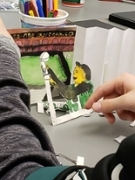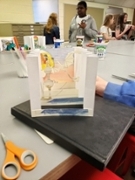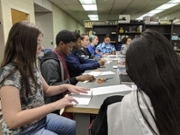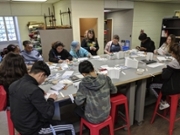 Click photos for slideshow.
Affordable Course Content: How Can You Lower the Cost for Students?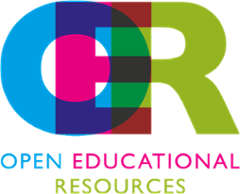 Did you know that your liaison librarian can help you identify low-cost course content options for your students? For example, there are thousands of library resources that can be used, such as journal article permalinks and multi-user e-books. These links can easily be inserted to Blackboard or Library E-Reserves. You may also place print textbooks on the reserve shelves behind the library's information desk for student check-out. The availability of Open Educational Resources and Textbooks continues to increase and several UR faculty members are using open textbooks through the Open Textbook Network and OpenStax. Each discipline has special needs and we can assist you with identifying what is available and appropriate for your courses. For further information, connect to the Open Educational Resources guide.
- Lucretia McCulley, Head, Scholarly Communications
Inclusive Pedagogy in Library Instruction
Librarians frequently serve as guest lecturers in classes to provide instruction on research strategies and sources. With a 50-75 minute class, how can librarians incorporate inclusive pedagogy teaching strategies? Librarians from six colleges in the Associated Colleges of the South spent twelve months researching this question and developing best practices with a $33,000 ACS grant during 2018. Represented schools include the University of Richmond, Birmingham-Southern College, Davidson College, Furman University and Washington and Lee. Lucretia McCulley, Head of Scholarly Communications, represented the University of Richmond in this initiative. The group's primary goal was to develop a set of best practices for library instruction that will enable librarians to better serve diverse identities, including race, gender, sexuality and abilities that can be used in any academic library. Based on research, numerous meetings, and advice from inclusive pedagogy experts, the group developed an annotated bibliography, tools for inclusive pedagogy and recommended best practices. In order to share the knowledge with librarians across ACS and beyond, the group developed a resource website. Examples of best practices include a focus on developing welcoming introductions; greeting students as they enter the class; incorporating group work and sharing discoveries; working closely with the faculty member prior to the session; sharing information verbally, in print and electronically to meet different learning styles; utilizing diverse examples; recognizing and acknowledging student expertise and incorporating active learning activities.
- Lucretia McCulley, Head, Scholarly Communications and Access Services
Archives
Follow us on Facebook


Oops! Something went Wrong.
----------------------------
Message: Decoding failed: Syntax error
Code: 0
File: /WWW/includes/zend/ZendFramework-1.10.5-minimal/library/Zend/Json.php
Line: 93
Trace: #0 /WWW/repos/kp4/includes/kp4/php/Artemis/Utilities/Feeds/Frontend/Facebook.php(51): Zend_Json::decode('', 0) #1 /WWW/repos/kp4/includes/kp4/php/Artemis/Utilities/Feeds/Frontend.php(67): Artemis_Utilities_Feeds_Frontend_Facebook->makeFeed() #2 /WWW/repos/kp4/includes/kp4/php/Artemis/Utilities/Feeds/Frontend/Facebook.php(47): Artemis_Utilities_Feeds_Frontend->setXml() #3 /WWW/external/library/about/newsletters/2019-03.html(225): Artemis_Utilities_Feeds_Frontend_Facebook->setXml() #4 {main}
----------------------------