Mary Morton Parsons Music Library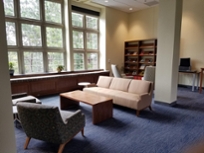 Parsons Music Library is located in the Modlin Center for the Arts.  We have over 12,000 CDs, 18,000 scores, and 12,000 books about all types of music and dance. Our video collection includes operas, musicals, dance performances, concerts, instructional programs, and documentaries in both DVD and VHS formats.
The Music Library is a resource for all UR students, faculty, and staff.  We have a variety of audio and video playback equipment, as well as desktop and laptop computers, iPads, a printer, and a photocopier that can also scan documents.  Three group study rooms are available for student use.
Access is through Booker Hall of Music (2nd floor), or through the main visitors' entrance to the Modlin Center (3rd floor).
Related Sites
Music Library Streaming Audio Policy

"Listening in": Music Library blog
Wireless Printing Instructions for Windows and Mac