James W. Jackson Award for
Excellence in Library Research in the Social Sciences
Purpose and Eligibility
The purpose of the award is to recognize and encourage excellence in the use of library research skills in the social sciences (Criminal Justice, Economics & Management, Education, Environmental Studies, History, School of Leadership Studies, International Studies, Journalism, Political Science, Psychology, Sociology and Anthropology, Women, Gender and Sexuality Studies).
Upper division students are eligible, based on a research project completed during the spring semester of the academic year or during the calendar year. Papers previously submitted are ineligible.
The winning paper should demonstrate a depth and breadth of effective use of research materials in the social sciences and clear evidence of thoughtful command of these resources. Excellent research projects which do not make significant use of library research materials (e.g., experimental projects) cannot, regrettably, be considered. Undergraduate honors theses are not eligible for the Jackson Award.
Procedure
Nominations must be made by a faculty member. Each faculty member may nominate one or two students by submitting their research paper(s). The deadline for submission will be announced during the Spring semester.
Faculty, please send submissions to Kevin Butterfield, University Librarian, via email at kbutterf@richmond.edu.
2020 Deadline: April 10, 2020
The Library Committee will serve on the Jackson Award committee.  Together with the Government Information Librarian and the Social Sciences Librarian, they will read the entries and determine a winner. For more information, please call Kevin Butterfield at (804) 289-8456.
Award 
The award consists of a check for $1000. The winner's name will be inscribed on a plaque in Boatwright Memorial Library and will be acknowledged in the Commencement Program.
2019 James Jackson Award Winner - Kay Dervishi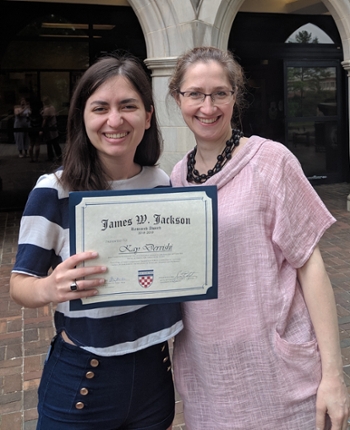 Past Jackson Recipients
| | |
| --- | --- |
| 1984 | Brian M. Sheahan |
| 1985 | Catharine N. Morrison |
| 1986 | Jeanette K. Williams |
| 1987 | Paula L. Domenici |
| 1988 | Mary Delicate |
| 1989 | Kate Ravenel |
| 1990 | Robbin F. Kohler |
| 1991 | James H. Carter, IV |
| 1992 | Robert Bennett |
| 1993 | Jonathan S. Marashlian |
| 1994 | Sean P. Byrne |
| 1995 | Daniel F. Diffley |
| 1996 | Jeffrey K. Staton |
| 1997 | Melanie Ann Bailey |
| 1998 | Kelly J. Schoeffel |
| 1999 | Marianne Wilson |
| 2000 | Jennifer A. Gaines |
| 2001 | Elizabeth J. Peiffer |
| 2002 | Daniel G. Feldman |
| 2003 | Rachel Finer |
| 2004 | John Kevin Dunn, Jr. |
| 2004 | Heather Lynn McQueen |
| 2005 | Nicholas Klaiber |
| 2006 | William Wilkes |
| 2007 | Amy Bradshaw |
| 2008 | Chris Cotten |
| 2009 | Jacob Johnson |
| 2010 | Kelly Behrend |
| 2011 | Marianne Williams |
| 2012 | Sarah Fishman |
| 2013 | Edward Beach |
| 2014 | Kate Lawrenz |
| 2015 | Solee Park |
| 2016 | Grace DeVries |
| 2017 | Carly Sibilia |
| 2018 | Helen Richardson |
| 2019 | Kay Dervishi |