George Modlin Book Award
Purpose and Eligibility
Established in 1971, the Modlin Book Award was created to honor Dr. George M. Modlin upon his retirement as President of the University of Richmond.  This competitive award recognizes and promotes the development of scholarly personal libraries.  Graduating members of the senior class who have accumulated an outstanding personal library with a scholarly focus or special personal interest are eligible to apply for the award.   
Procedure
Graduating seniors may submit the following information to apply for the Modlin Book Award:
a bibliographic list of not more than fifty (50) items from the student's personal collection, formatted into an appropriate citation style;
a one-to-two (1-2) page rationale and explanation behind the development of the collection.
The deadline for submission will be announced during the Spring semester.
2020 Deadline: April 03, 2020
Send papers to:

Modlin Award Committee
University Librarian's Office
Boatwright Memorial Library
or
Email the University Librarian

Award
The award consists of a check for $1000. The winner's name will be inscribed on a plaque in Boatwright Memorial Library and will be acknowledged in the Commencement Program.  An exhibit of selections from the collection may be displayed in Boatwright Memorial Library.
The selection committee can decline to make an award if it determines that no collection entered merits the award.
For more information, please call Kevin Butterfield at (804) 289-8456.
2019 George Modlin Award Winner - 
Azin Bahari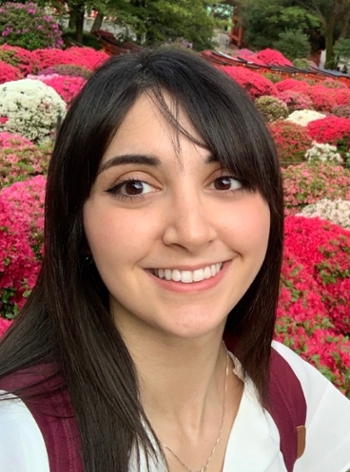 Past Modlin Recipients
Year

Recipient Name

Collection Title

1973

Sandra Lee Snidow

Classical Music Library

1974

William Rust Norris

Science Fiction & Fantasy

1976

Elizabeth Rhodes Brimm

Hispanic-Related Books

1977

Rhett McPherson

Scottish Highland Bagpipe Music

1978

James Edward Cumbie

Medieval European History

1979

Howard Franklin Crotzer, Jr.

English Literature

1981

Elizabeth W. Andrews

Horses & Horsemanship

1982

Judith G.Suben

Language & Thought

1984

Christopher K. Smith

Theater & Directing

1984

Edward C. Cleary

Postmodernist Fiction

1985

John Scott Hudgins

Jewish History

1986

Peter S. Kirkpatrick

French Politics

1987

Michael Bruce Compton

Understanding Biblical Language

1988

James R. Luck, Jr.

A Search For God

1989

Louis T. Manarin

The Roman Empire

1990

Mark H. Danley

Military History

1991

James H. Carter, IV

Intellectual Development of Modern China

1992

Cynthia Paces

Czechoslovakia's Cultural Heritage

1993

Michael T. Williams

French Philosophy

1994

Kristina M. Thomas

Dogs In Fact And Fiction

1995

Sonia J. Banerji

South Asian Culture & History

1996

Kelly E. Broxton

Social Change of Education & Women Studies

1997

Wesley C. Kelly

Classics And Philosophy Minor Focus On Linguistic Philosophy

1998

Lee A. Scott

Books My Passport - The Journey To The East

1999

Steven Pate

A Literature Francais: An Education Through Literature

2000

Josh J. Clough

The American Indian and U.S. Western History

2001

Thomas A. Calder

A Collection For The Study of

East Asia From Its Roots to Today

2002

Barrett Matthew Emerick

Search For Truth

2003

Amy Robin Hoffman

Edward Gorey and the World of the Gothic

2004

Erin Bartels

Reclaiming and Reinventing the South & Southernness

2005

Chase Rowan

Politics, Plato and Pinot Noir: my library as an independent liberal arts education

2006

Patrick Elgin

Military Leadership - Personal and Universal

2006

Patrick Salland

The World of Pharaohs

2007

Carmen del Valle Hermo

Hispanic Heritage: Hispanic and Latino Art

2008

Jacob Neal

What's the Use of Truth? Queering the Face of Philosophy by Way of Richard Rorty

2009

Rebecca Frazier

Making Connections: A Collection Exploring the Intersections of Psychology, Gender, and Leadership

2010

Robert Lindstrom

Why Do I Collect Golf Books?

2010

Daniel Rudary

European and Early American History

2011

Abigail S. Novak

Evaluating Education Reform: The Importance of Race, Class, and Gender in Understanding America's Education Crisis

2011

Schuyler Swartout

The Order of Things

2012

Caroline Cobert

Ancient Egyptain Mummies

2013

Katie C. Freeman

The Evolution of Knowledge: A Curious Literary Journey in Understanding Life from Neurons to Nebulas

2013

Sam Crusemire

The New Yorker in a Virginian

2014

Brian Guay

Bridging the Gap between Political Science and Psychology Using Tibetan Studies

2015

Kassie Andreadis

Female-Led Speculative Fiction

2015

Melissa Diamond

Middle East Peace and Conflicts

2016

Marissa Parker

Sustainability & the Environment

2017

Damian Hondares

Understanding Cuba, Then and Now

2018

Aheema Gazi

2019

Azin Bahari