Access Library Databases and Services From Off-Campus
Connect to the library's website at: https://library.richmond.edu/
Choose: Research Databases

Select your database from the A-Z list of databases.
Click on the blue title link.
For this example: Ancestry Library Edition is shown.

If you are home or not on the university campus a log-in screen will appear: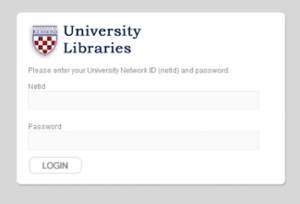 Type your NETID in the first box.
Type your 16 digit password into the second box.
Then select the LOGIN button.
You will automatically be connected to your selected resource just as if you were on campus.
For additional help please contact the Boatwright Circulation Desk (804) 289-8876.