Mary Morton Parsons Music Library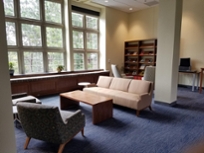 For the 2017-18 academic year Parsons Music Library is temporariliy located in Sarah Brunet Hall, in rooms 103, 104, and 105.  We have over 13,000 CDs, 18,000 scores, and 12,000 books about all types of music and dance. Our DVD collection includes operas, musicals, dance performances, concerts, instructional programs, and documentaries.
The Music Library is a resource for all UR students, faculty, and staff; members of the community are also welcome to visit.  We have desktop and laptop computers, iPads, a printer, a photocopier, and a scanner.
We expect to return to our renovated Modlin Center facility in summer 2018.
Related Sites
Music Library Streaming Audio Policy

"Listening in": Music Library blog
Wireless Printing Instructions for Windows and Mac

Community Resources for Donating Music Materials